UPCOMING AABIP WEBINAR
The American Association for Bronchology and Interventional Pulmonology invites you to participate in the upcoming webinar:
Radiation safety for the patient and provider: Understanding safety and optimizing intraoperative radiography during peripheral bronchoscopy
TOPICS:
Radiation Principles and Safety for Fluoroscopic Guided Procedures - Michael S. Stecker, MD
Intraoperative imaging options for the bronchoscopist and relevant radiation safety considerations for patients and providers - Michael A. Pritchett, DO, MPH
Best practices for avoiding CT-to-body divergence: Evidence to date and future directions - Roberto F. Casal, MD
Monday, September 18, 2023 at 7pm EDT / 4pm PDT
The live webinar is open access, membership not required, but ADVANCE REGISTRATION IS REQUIRED.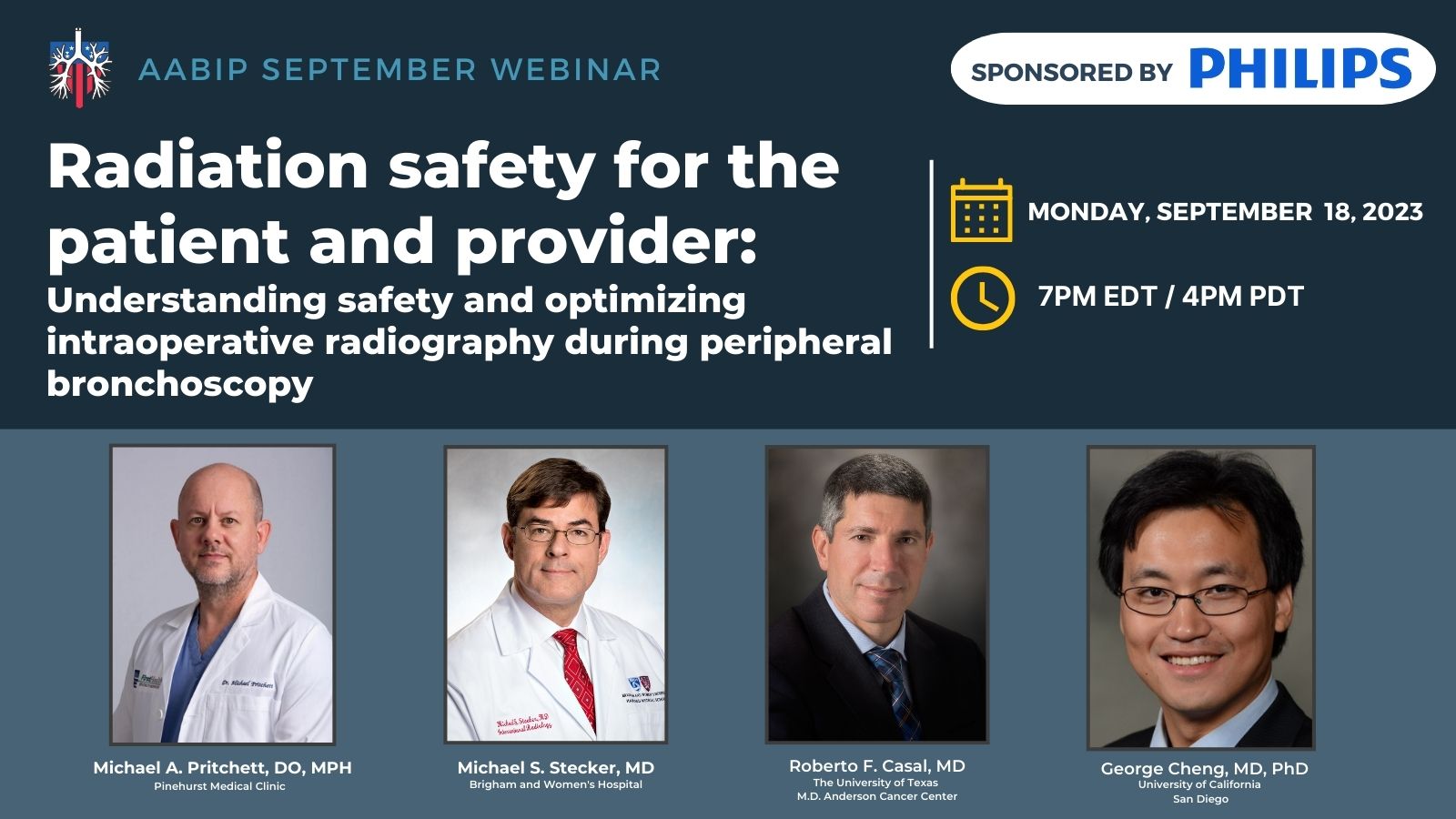 PANELISTS
Michael A. Pritchett, DO, MPH

Director of Thoracic Oncology
Director, Chest Center of the Carolinas
Pinehurst Medical Clinic, Pinehurst, NC
Michael S. Stecker, MD

Assistant Professor of Radiology, Harvard Medical School
Department of Radiology, Brigham and Women's Hospital, Boston, MA
Roberto F. Casal, MD
Professor | Department of Pulmonary Medicine | Section of Interventional Pulmonology
Director | Advanced Bronchoscopy Program
Director | Clinical Research Unit (C.R.U.)
The University of Texas M.D. Anderson Cancer Center, Houston, TX 
---
MODERATOR
Director of Interventional Pulmonology, Bronchoscopy, and Pleural Diseases
Associate Program Director of Interventional Pulmonology Fellowship
University of California San Diego, San Diego, CA
---
WEBINAR ACCESS
Live Access to webinar on Monday, September 18, 2023 @ 7pm EDT 
Click here for other upcoming webinars.
---
MISSED A LIVE WEBINAR?
Not a problem!  AABIP members have access to the full webinar library + additional members only resources.  Ensure you are logged in and click here for Member Resources!