AABIP APP & Allied Health Chapter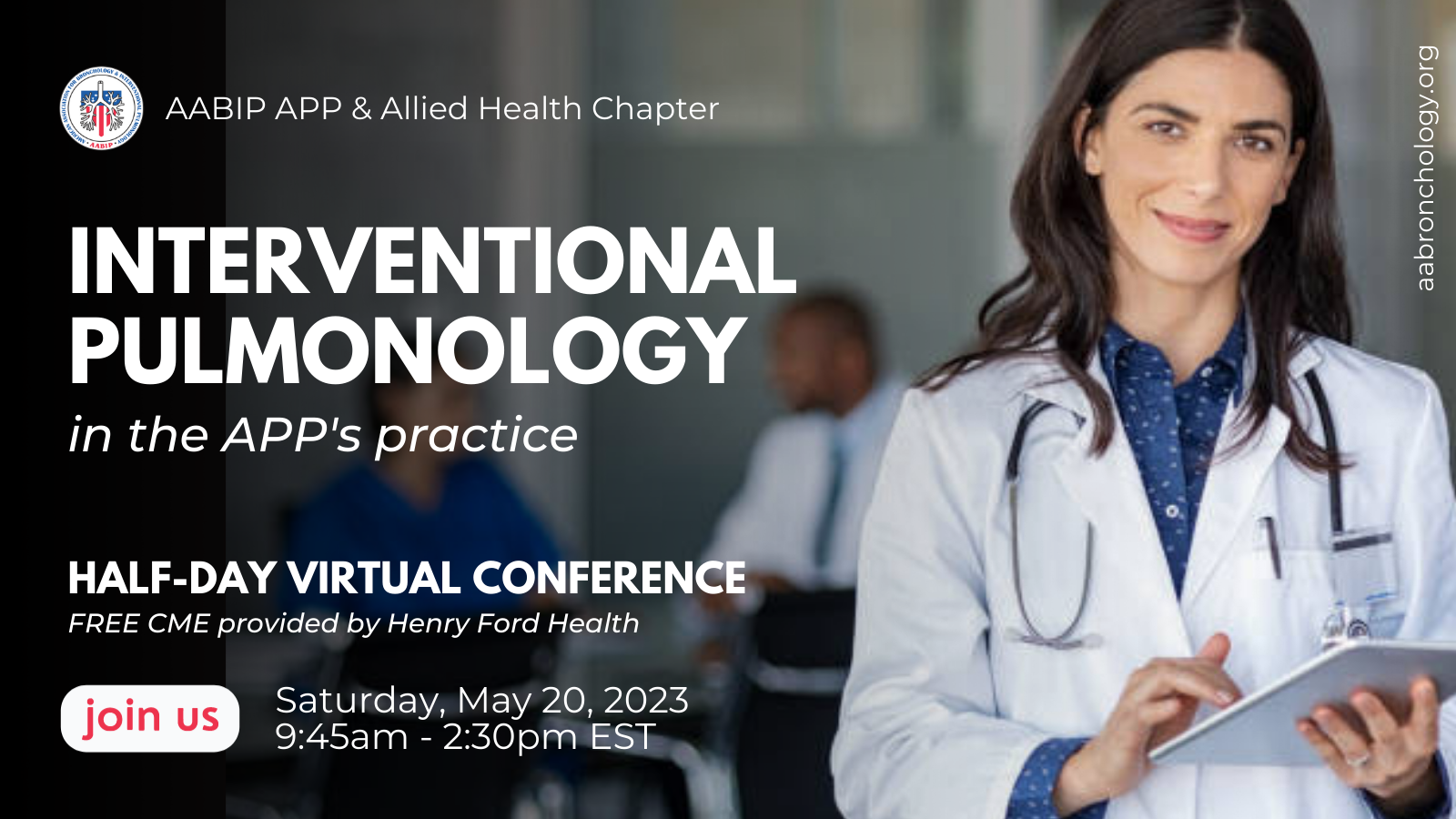 ---
APP Interventional Pulmonology
Interventional Pulmonology in the APP's practice
Half-day virtual conference 
Saturday, May 20, 2023  |  9:45am to 2:30pm EST
Interventional Pulmonology experts and AABIP with FREE CMEs provided by Henry Ford Health present evidence-based education and practice on various topics.  These topics include the evaluation and management technique of Bronchoscopic Lung Volume Reduction for COPD, Approach to Lung Nodules, Malignant Pleural Effusions and Tracheal Stenosis.  The webinar aims to provide global education on various topics related to Interventional Pulmonology.  Each topic presented will include a comprehensive review of the literature, clinical guidelines, potential patient outcomes and key components in clinical diagnosing and management.
AABIP Members can click here to access the full conference recording and lecture presentations.
---
Free CME provided by Henry Ford Health
Henry Ford Health is accredited by the Accreditation Council for Continuing Medical Education (ACCME) to provide continuing medical education for physicians. Henry Ford Health designates this activity for a maximum of 4.0 AMA PRA Category 1 credits. If you are interested in claiming CME for your participation with this event, you must create an account at CloudCME (instructions). When you complete your profile, you must include your mobile telephone number. During the event, further information will be provided on claiming the credit.
---
Agenda
APP Interventional Pulmonology Half-Day Conference

Saturday, May 20, 2023

All agenda times shown in EST

0945-1000a:        Open Virtual Platform

1000-1050a:        Tracheal Stenosis

Dr. Abhinav Agrawal

1050-1100a:       Questions/Break

1100-1150a:       Bronchoscopic Lung Volume Reduction for Emphysema

Dr. D.Kevin Duong

1150-1200p:        Questions

1200-1230p:       Break

1230-1320p:        Approach to Lung Nodules          

Dr. A. Rolando Peralta

1320-1330p:      Questions/Break

1330- 1420p:     

Malignant pleural effusions

Dr. Jose Luis De Cardenas

1420-1430:      Questions/Wrap-up 
---
~Other upcoming APP & Allied Health Chapter Events~
April 19th @ 8pm EST
APP & Allied Health Chapter quarterly chapter meeting 
June 7th @ 8pm EST 
Common Ground (Roundtable discussion)
June Topic: Bronchoscopy
August 24-26, 2023
AABIP Annual Conference
Sheraton Grand Chicago Riverwalk
---